Once again the world seems a little smaller. I returned Tuesday night from my first excursion into South America. Just under two weeks in northern Colombia. Months ago, on March 10th, around 4 p.m. while I was at work I received a call from my good friend Liz: "I'm going to Colombia, want to go?" She'd found a ticket for $300 roundtrip to Cartagena, Colombia. That night I was sitting with a group gathered around a table at Casa pouring over dates and departure airports. By 11 p.m. five of us had bought a ticket from Detroit to Cartagena. Amanda, Laura (Red), Zeb, Liz, and myself. The months slipped by, Colombia was out there but so far away we researched barely anything. Then September came. How the time flies in retrospect. I inked out a block of time I'd be away on my course calendar and feverishly put together material for the substitute teacher who would teach the two classes I'd be missing while away. A hour before we were to begin our journey I grabbed a small backpack and stuffed it with clothes, and away I was. I taught my last class and then hit the road to drive through the night to Detroit. By the next morning we walked out of the airport into the tropical air of Cartagena.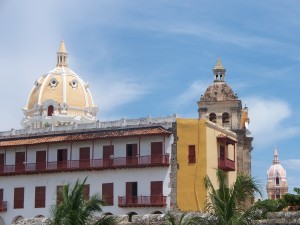 I'm grateful to say I have visited many countries in the world, two pages remain in my passport free of any stamps. I did not proactively steer my life toward those experiences, yet the opportunities to fly far away came, and the thought of "why not?" followed momentarily thereafter. Every day I wake up and see a view from my window, and around the world billions of others do the same. Traveling far away I get a glimpse of life through those other windows; At a time and place that will slowly change, yet in my memory those places are timeless. I hold in my memory Vanuatu prior to cell phones, Romania prior to the EU, and however hazy, a glimpse of communist East Germany before the fall of the Berlin wall, a visit I made as a child. Those experiences are precious to me, and some have been life-changing in the most unexpected ways. I sometimes think what I love most fundamentally about working in Internet technology is that it is working with the World Wide Web. A vast library available in theory to all of humanity, that all the cultures of the world can contribute to.
I have digressed however. Colombia. The name evokes cocaine production, political upheaval, kidnappings, and violence. However justified or not, this is a sordid reputation Colombia has suffered and largely retained. If nothing else, this left a visit to the country largely free from expectation. Were we to see this darker side, or was this the Colombia of the past, whose new identity had yet to filter to the surface of the global consciousness? Where we traveled it seemed largely a reality of the past. On a six day trek we took through the jungle to Ciudad Perdida (translation: "Lost City"), an archaeological ruin older than Machu Picchu, we were told the hillsides we hiked on were once large coca growing plantations, that had since been largely eradicated through fumigation (for better or worse, as the environmental impact of the chemicals remained). The ruin itself, where kidnappings had happened in the past, now had a permanent military outpost of armed soldiers who milled about and gawked at the tourists passing through. Indeed, during our visit military and police checkpoints and outposts were a common sight. We were searched more than once, but there never was a feeling of being in danger.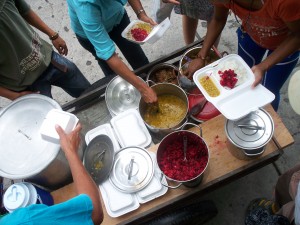 And so we adjusted to the perks of life in Colombia. Shots of coffee from the street vendors in the morning. Smoothies of passionfruit ("maracuya"), mango, and lulo throughout the day. Snorkeling and swimming in warm tropical waters. Nights spent in hammocks. It was a glimpse we all got for the first time of Colombia and it appeared during our brief visit to be positive and optimistic. There was poverty to be easily seen, but not nearly the extent to which I was expecting.
On our final morning during our stay Liz and I sat on some rocks on a beach in Bocagrande, outside of the Cartagena city center, overlooking the Carribbean ocean. At one point a police patrol came by and searched us. Several street hawkers came by with offers of sunglasses, watches, and massages. We were to leave that day, but those lives would continue following whatever path and dreams they will. Maybe one of us will return, but who is to know what opportunities may come down the road for any of us. It may be for another flight to a distant land, for the opportunity to glimpse life through yet another foreign and exotic window, yet one that is entirely the realities of home for the people that live there.